Please kindly contact us for full data sheet of the display.
DESCRIPTION
HICENDA TFT 3.5 is High Resolution 230,400 Dots (320 RGB x 240) FW035TFT is a transmissive type color active matrix liquid crystal display (LCD) which uses amorphous thin film transistor (TFT) as
switching devices. This product is composed of a TFT LCD panel, driver ICs, FPC and a
backlight unit.
GENERAL SPECIFICATION
Display Type:

TFT display

Display Mode:

Passive Matrix

Model Number:

FW035TFT

Diagonal Screen size:

3.5

inch

Interface:

Digital 24-bit RGB/SERIAL

RGB/CCIR656/CCIR601

4 Chip White LED

Number of Pixels:

320(RGB)x240

Panel Size:

76.9(W) x 63.9(H) x 3.3(D)

(mm)

Driver IC:

HX8238-D

Active Area:

Normally white/Transmissive

Pixel Size:

Weight:

40 (g)

Operating Temperature:

-40~85°



DRAWING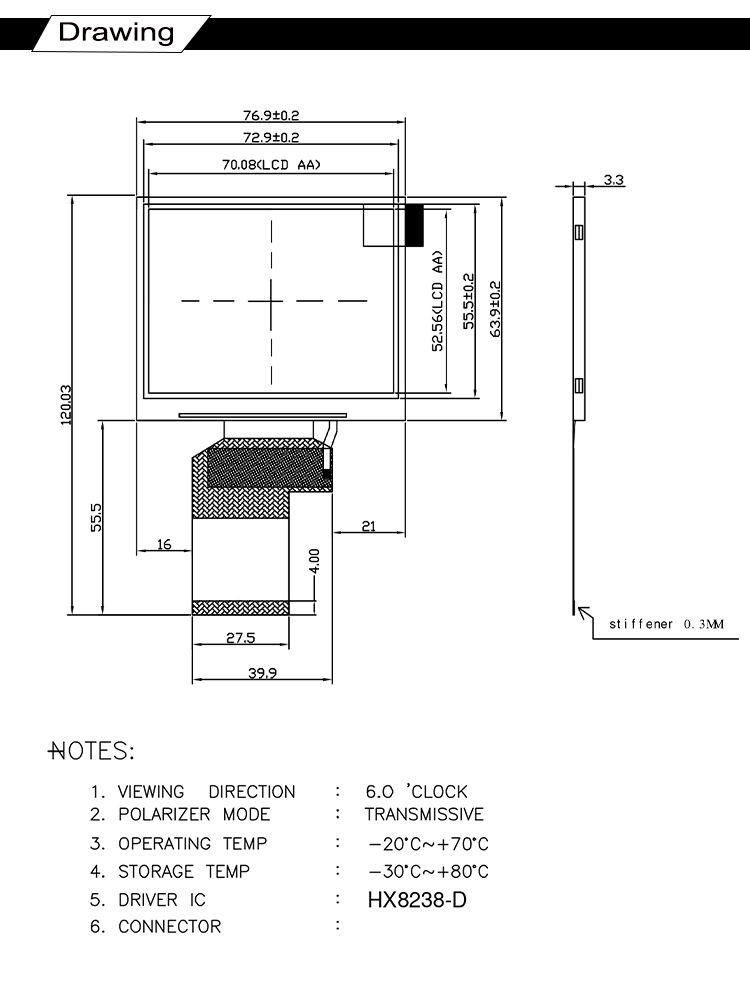 INTERFACE PIN FUNCTION