Please kindly contact us for full data sheet of the display.
DESCRIPTION
HICENDA HEDP0213BNS800F41 is an Active Matrix Electrophoretic Display (AM EPD), with
interface and a reference system design. The display is capable to display images at 1-bit white and
black full display capabilities.The 2.13 inch active area contains 122×250 pixels. The module is a
TFT-array driving electrophoresis display, with integrated circuits including gate driver, source
driver, MCU interface, timing controller, oscillator, DC-DC, SRAM, LUT, VCOM. Module can be
used in portable electronic devices, such as Electronic Shelf Label (ESL) System.
GENERAL SPECIFICATION
Display Type:

Eink display

Display Mode:

Active Matrix Electrophoretic Display

Model Number:

HEDP0213BNS800F41

Diagonal Screen size:

2.13 inch

Interface:

4-wire SPI or 3-

wire SPI i

Number of Pixels:

122(H)×250(V)




Panel Size:

29.2(H)×59.2 (V) ×1.0(D)

(mm)

Driver IC:

SSD1680Z8

Active Area:

Pixel Size:

Weight:




Color:
DRAWING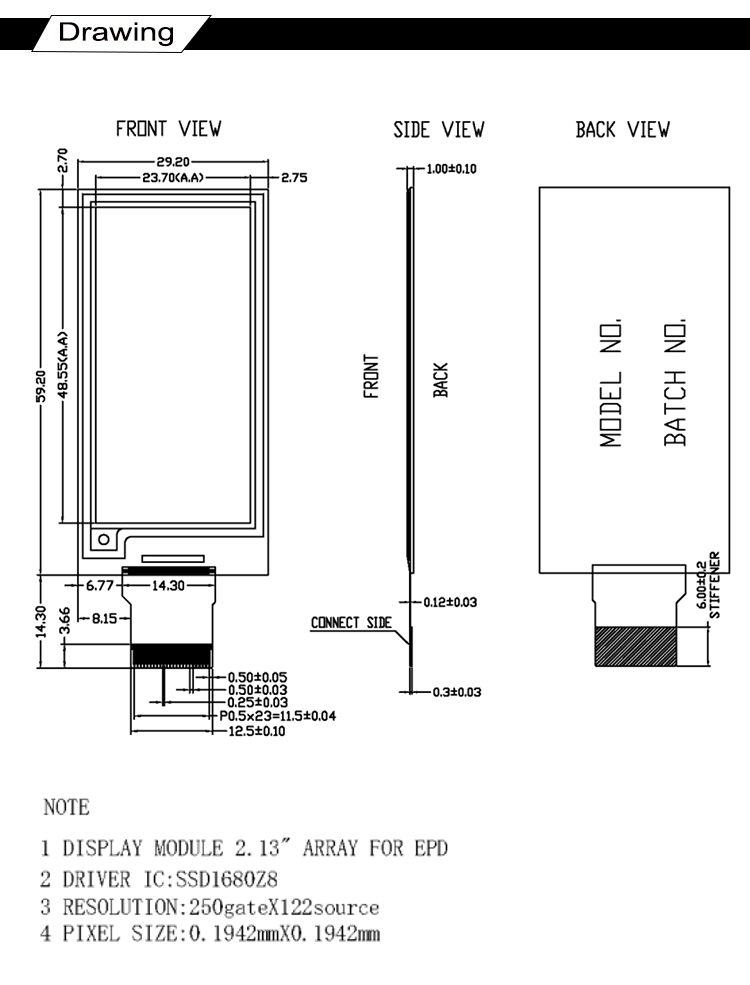 INTERFACE PIN FUNCTION